POWERFUL CAR VACUUM CLEANER
Between 9/9 and 11/9 delivery time is 7 days!
The problem with cars, especially ones that we've had for a long while, is they get really dirty if not maintained well, or if you just have kids.
Sometimes, we just want to have a quick snack or two, hang out with friends, do a road trip - all these activities end up with a messy car because of dirt, snacks, crumbs, and not just that, even water and soda spills too. We don't want that and the worst part is, it's really difficult to clean your whole car. Well, not anymore!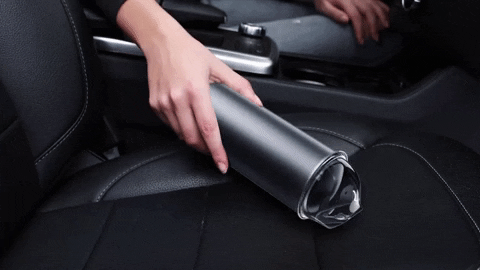 The 
Portable Wireless Car Vacuum Cleaner 
uses state-of-the-art technology and packages it in a neat compact form factor. It cleans up your mess really fast and includes several unique nozzles to clean hard-to-reach places in your car too!
Cordless Car Vacuum Cleaner Benefit
One of the advantages of vacuum cleaners is that it is an effective way of cleaning your car. There are no other means by which you can clean your car efficiently than when using a vacuum cleaner. A vacuum cleaner can remove all the dirt that you can even not see.
🧹 Small & Light Weight - A car vacuum cleaner should be lightweight and compact so it's easy to hold and maneuver as you clean in and around your vehicle.
🧹 Cordless - Cordless vacuum cleaner offers greater mobility and allows you to clean your car on the go.
🧹 Easy To Use - Our mini vacuum cleaner just requires the push of a button to start sucking up messes.
🧹 Special Attachments - The vacuum cleaner comes with 2 special attachments for reaching small cracks and crevices.
Cordless Car Vacuum Cleaner Specifications
| | |
| --- | --- |
| Material | Aluminum alloy + ABS |
| Battery capacity | 11.1V/2000mAh |
| Running time | Up to 25 minutes |
| Absorbing pressure | 4kPa |
| Charging time | 3.5 hours |
| Charging input port | Type-C |
| Output power | 65W |
| Weight | 0.56 kg |
| Technology | Oxidation |
Package Content
1 x Cordless Car Vacuum Cleaner
1 x Crevice nozzle
1 x Brush Nozzle
1 x Cloth Bag
1 x Charging Cable
More Features
Strong Suction:

 

Made from aircraft-used alloy and boasting the patented design ensures the strong suction output of the wireless powerful vacuum cleaner. The duct design ensures duct smoothness and great absorbing pressure. Made from aircraft-used alloy and boasting the patented design ensures a strong suction output. Voltage: 15V MAX PLEASE NOTE: There is insufficient USB voltage for the car, so it needs to be charged normally using the 3.0 car charger.
Portable & Cordless:

 

Wireless vacuum cleaner without cords, it can be moved anywhere. At the same time with various cleaning heads, can clean anywhere, such as car seat aperture, car dashboard, air vent, the sofa of the gap in the home, the blind angle, etc. The compact design makes it the perfect choice for car vacuum cleaning.
Easy to Wash:

 

Stainless steel metal cover + quick-drying non-woven fabric + blasting sponge enables the vacuum cleaner to be durable, rust-free, washable, and quick-drying.
Long Battery Life:

 

Equipped with three 18650 batteries, the vacuum cleaner can run for over 21 minutes while providing robust absorbing pressure.
Order processing (dispatch) time:
All orders are processed & dispatched between 2-7 business days after your order placement.

A shipment tracking code will be emailed to you once your order has been shipped from our warehouse.

Please be reminded that you will be liable for any customs duty fee incurred if required in your country.
Delivery Timeframes:
| Delivery zones | Delivery time after dispatch | Shipping Fee |
| --- | --- | --- |
| USA & Canada | 14–28 days | Free standard shipping (tracked) |
| UK & Ireland | 14–28 days | Free standard shipping (tracked) |
| Australia | 14–28 days | Free standard shipping (tracked) |
| New Zealand | 14–28 days | Free standard shipping (tracked) |
| Europe | 14–28 days | Free standard shipping (tracked) |
| UAE, KSA, Qatar, Oman | 10-20 days | Free standard shipping (tracked) |
| Singapore, China, Malaysia | 10-20 days | Free standard shipping (tracked) |
| Rest of the world | 14-40 days | Free standard shipping (tracked) |
*Order processing & delivery times may vary during holiday season.
*Please expect slower processing times (around 5 to 7 days) during:
-Jan 25th to Feb 5th (Chinese New Year)
-Black Friday (Usually end of November)
-Dec 20th to Jan 5th (Holiday Season)